| Indonesia Tourism | Biak Map| Tell Your Friend | Dani Tribe | www.irianjaya.de |Others Region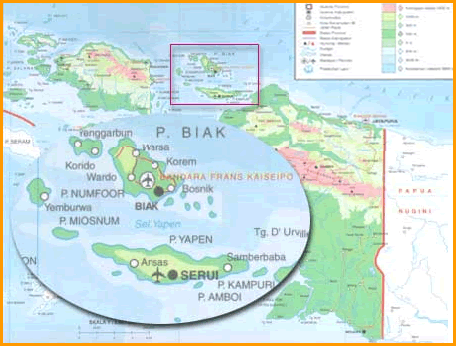 General Information
The Biak Numfor Regency is rich with historical and natural beauty offering you white sandy beaches with crystal clear water, coral reef to relax and rest. Biak`s unsploit coconut fringed shores as well as other island together make a tropical paradise, second to none in the world. This regency occupies a very strategic and important position being located between 134,47` to 136, east longitude and 0, 55` to 30 south latitude. It owns three big Islands and 66 small ones . In the north and east , it borders with Yapen strait, and in the West it borders with Woniai strait
Population
It si devided in to 8 districs,7 subdistric and 153 villages, has population 106,934 peoples.


Weather
The temperature is generally hot. Lights rain fall 189-399 mm per month between 22-29 days, which occurs a lot during the month of January to June, where the dry season between July to November.


Flora
There are numerous types of flora in this tropical area with it`s mystical tropical rain forest . The forest also has a variety trees and another commercials important species plus the lush vegetation of mangrove swamps



Fauna
The fauna is similiar with Australia fauna such as the group of fowl like pigeon, cockatoo, nuri (a kind of parrot) and the reptile group such as snake, turtle and monitor lizard.